Reading Tarot Cards
Fortune telling and clairvoyance
Each Tarot card has many different interpretations. The interpretation depends not only on the nature of the question (job, relationships or spiritual development), but also on what method of laying cards is used (eg Mystery of the High Priestess, The Celtic Cross, The Cross - see sidebar) or 'whichever card comes first or second'.
In this section we will mention some of the main meanings that we use for card readings and white magic. Of course, this is not the only possible interpretation. There are very different and sometimes quite contradictory perspectives which can result in the same picture or symbol having several different meanings. We recommend the books by Hajo Banzhaf (Gut beraten mit Tarot, Zwischen Himmel und Erde. Die Quintessenz aus Esoterik, Astrologie und Tarot) and Anna Franklin and Paul Mason.


The 22 Cards of Great Arkana
Stick/baton/rod = Fire
Hot tempered, impatient, adventurous, strong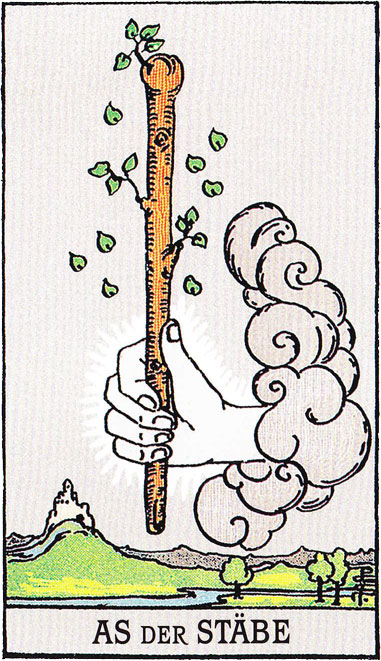 Ace of Wands
As the other ace cards, the ace of Wands stands for a chance in ourselves... More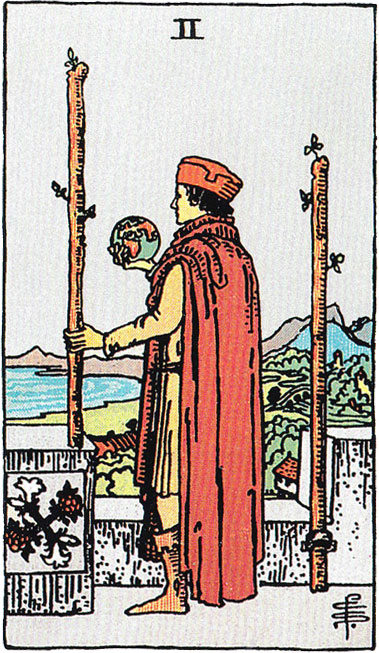 Two Wands
Lacking dedication. Lip service. Spiritless indifference. Neutrality. Fatigue occurrence.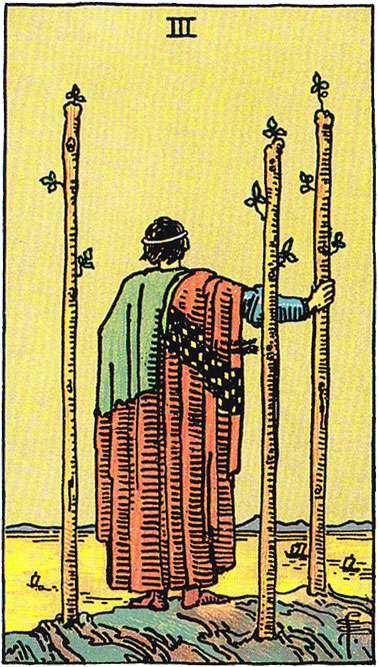 Three Wands
Confidence, sovereignty and assurance. Farsightedness and good expectations.
Four Wands
Being open minded. Heading for others. Zest of life. Affirmative.
Five Wands
Healthy competition, exciting power measurement. Athletic ambition. Having creative exchanges with another. Practicing.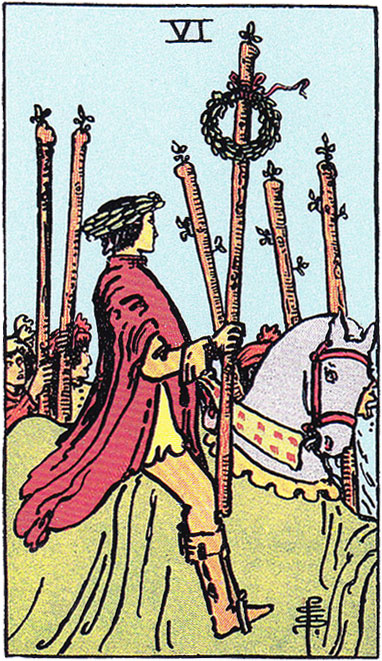 Six Wands
Good expectations, success, victory, optimism, pleasant messages.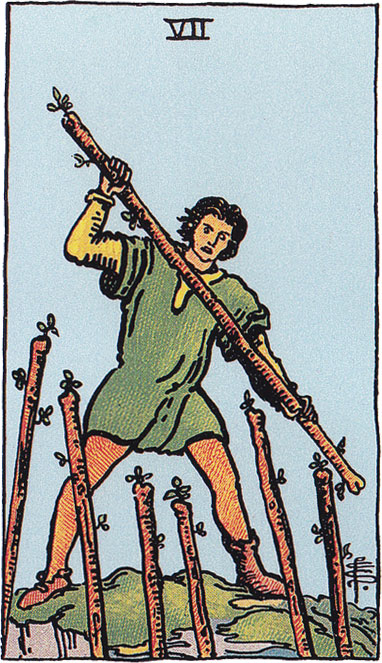 Seven Wands
Being able to successfully enforce (something). Keeping successfully the own position. Repulsing an attack.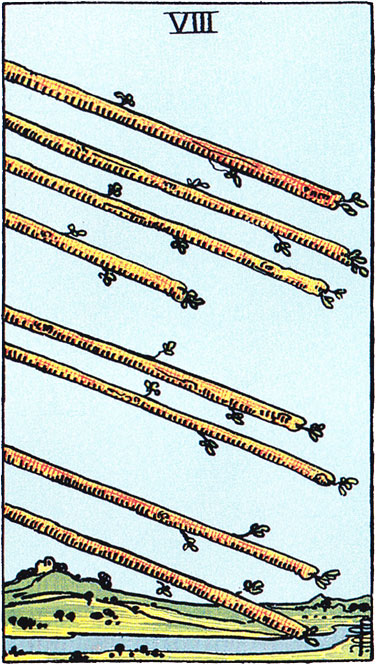 Eight Wands
Good news are going to come. Vivid impulses and gratifying development. Being near goal-reaching. Inspirations.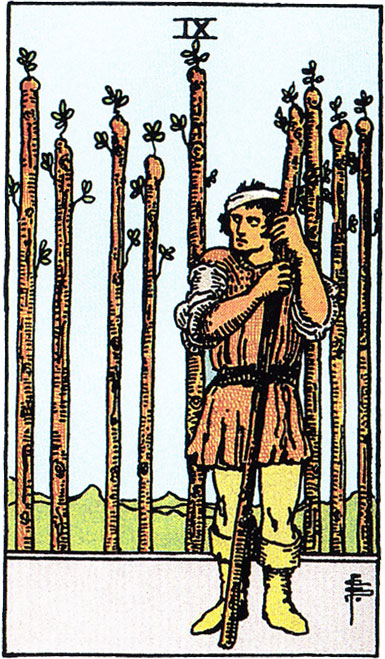 Nine Wands
Being cagey. Being hidden and feeling threatened. Vigilantly defend oneself against temptations.
Ten Wands
Heavy burden. Growth crisis. Temporary overstraining. Anhedonia. Lack of perspectives. Seeing own limits.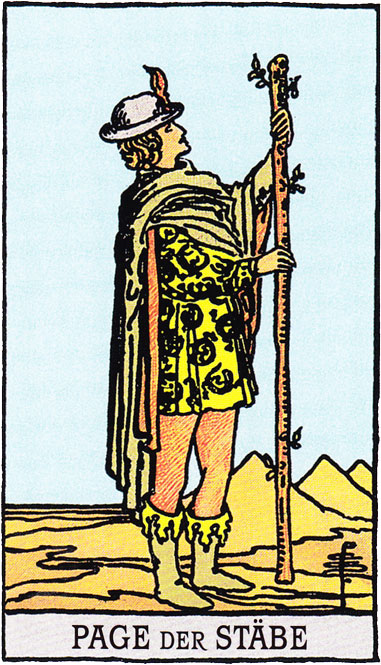 Jack of Wands
Exciting advices. Bolstering support, invitation for an adventure or difficult, dangerous challenges.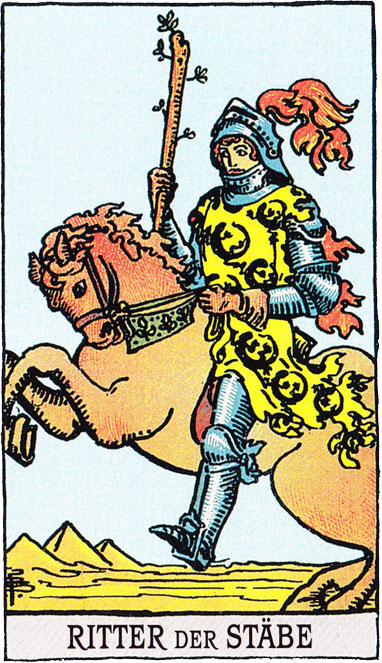 Knight of Wands
High spirits, experience hungriness, impetuous, force and momentum, impatience, temperamental outbursts, enthusiasm.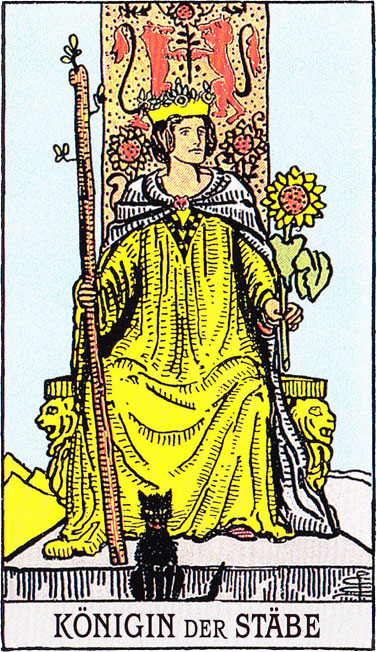 Queen of Wands
The strong-minded queen. A prideful, temperamental person is important for the person who is asking and motivates themself.
King of Wands
The strong-minded king. A temperamental, dynamic person is important for the person who is asking and motivates him/her/it? or the asking person is in the position of the queen on its own.
Top
Swords = Air
Cold, frosty, conflictual, intelligent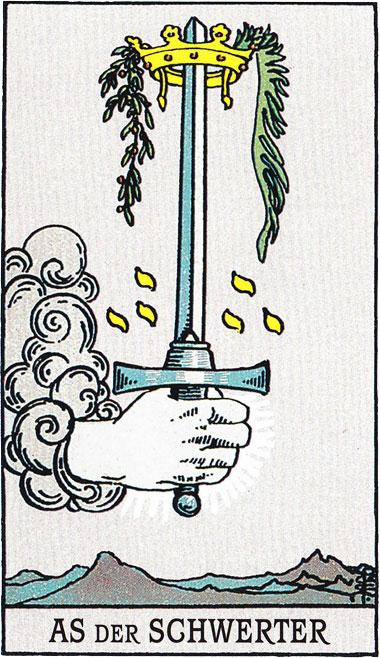 Ace of swords
Every ace embodies a chance that lies in us. More...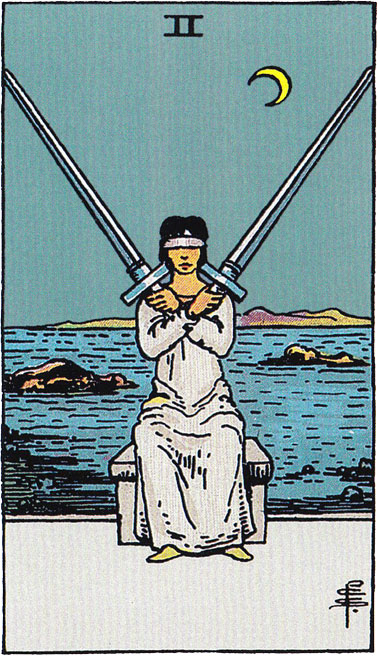 Two of Swords
Inner division. Rotating without finding a solution. Doubts and due to them increasing desperation.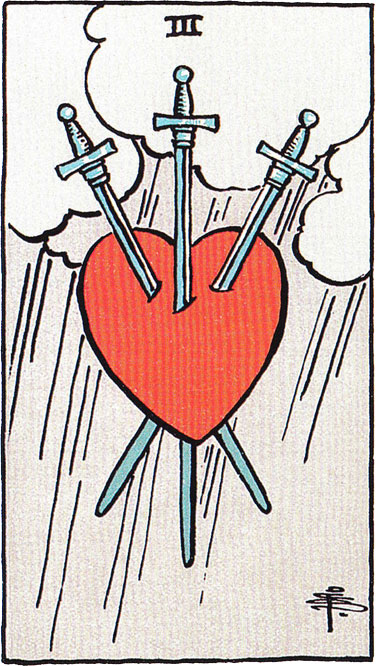 Three of Swords
Disillusion, inner conflicts, smart but difficult decisions. Messages which strike right into the heart
Four of Swords
Being sedated. Faint, illness, stagnancy which can be used for inner comprehension.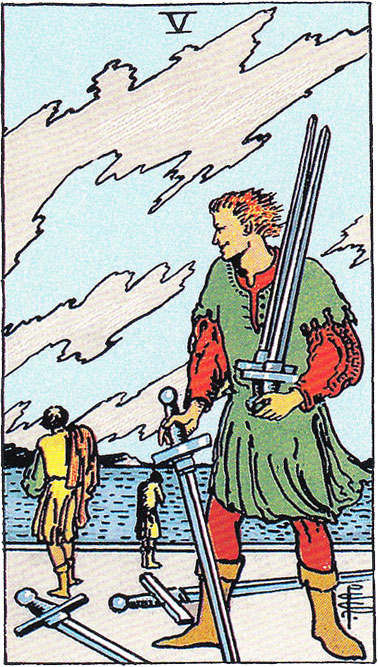 Five of Swords
Defeat, humiliation, villainy, repulsiveness, despicableness.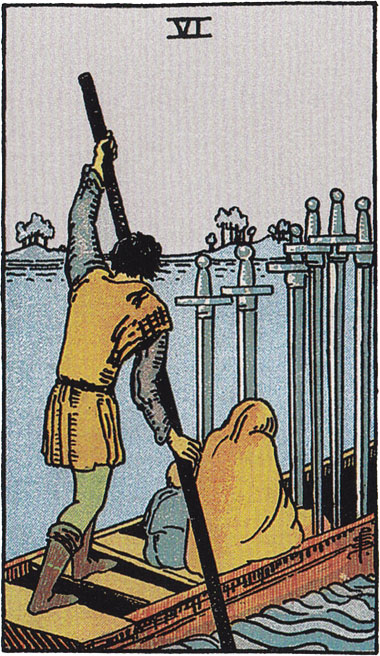 Six of Swords
First step with feeling of insecurity, change, movement, vacation.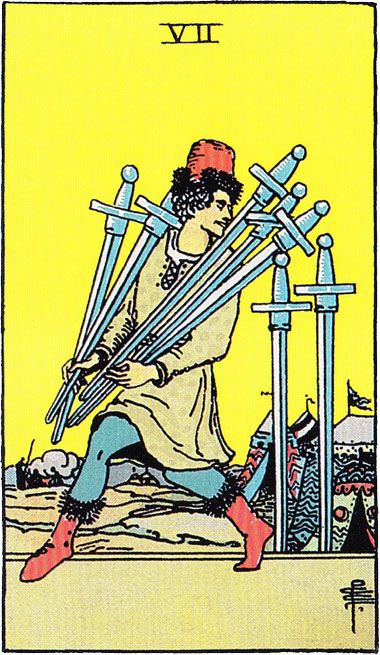 Seven of Swords
Guile and perfidy, cheating, imposture, stealing away.
Eight of Swords
Escapements, interdictions, abandonment, limitations, not being given complete expression.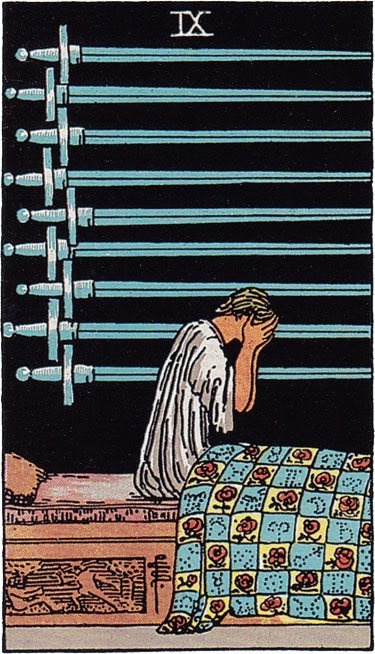 Nine of Swords
Fear, worries, insomnia, nightmares, desperation, compunction.
Ten of Swords
Random end, final stroke, death, tabula rasa.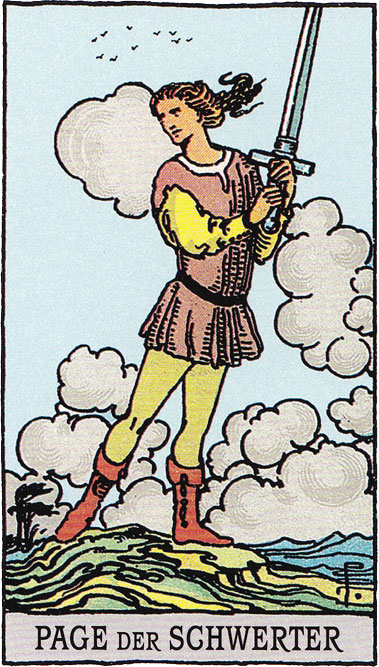 Jack of Swords
Chance to clarify, but most likely an arising conflict.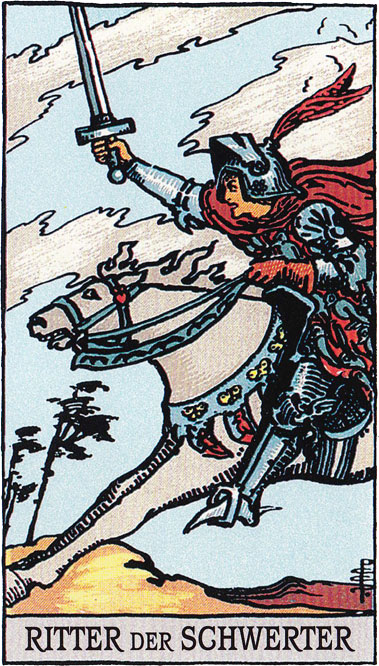 Knight of Swords
Sober, cold, frosty atmosphere, temperature decrease, aggressiveness, calculation (negative way).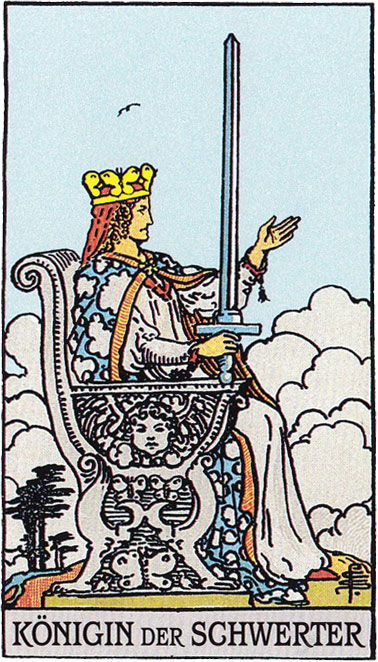 Queen of Swords
A woman in the kind of air: cool to cold, intellectually stimulating, shrewd, independent, smart, charming, eloquent, clever, distanced, demure. The woman who could liberate herself from dependence by will power.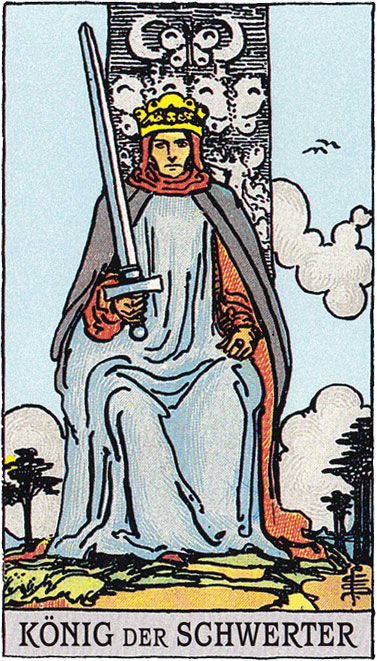 King of Swords
A man in the kind of air: cold and clear, rational, intellectually stimulating, entertaining, critical, clever, sober, distanced, volatile. The impartial, competent adviser.
Top
Cup = Water
Loving, peaceable, harmonious, gentle
Ace of Cups
The Ace of Cups is one of Tarot's greatest luck cards. More...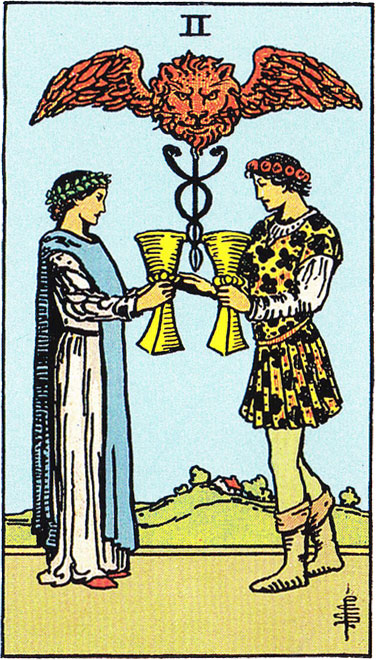 Two of Cups
The loving meeting, being welcome, heading for each other.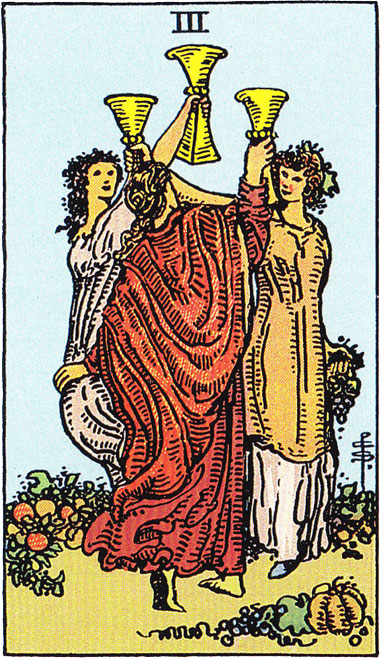 Three of Cups
Success and gratitude, recovery, sharing happiness with another.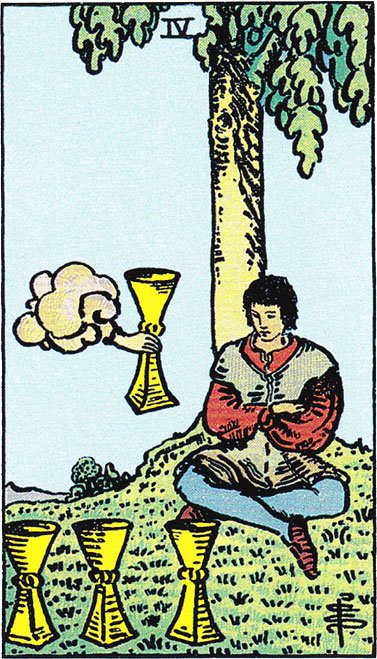 Four of Cups
Displeasure, being scathingly, missing a valuable chance due to apathy.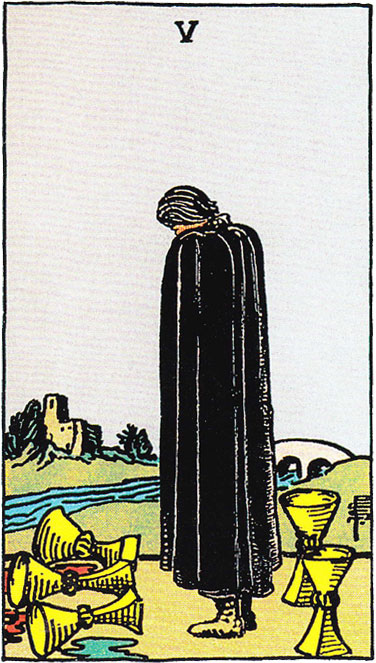 Five of Cups
Sorrow, loss, loneliness, worries, aborted hope.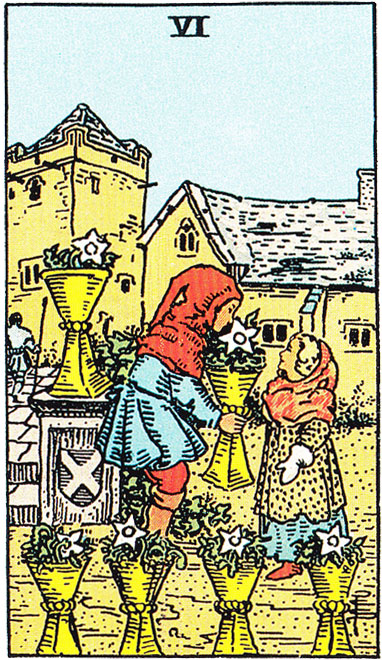 Six of Cups
Happy and wistful retrospective. Remembering old pictures, wishes, plans, conceptions. Nostalgia.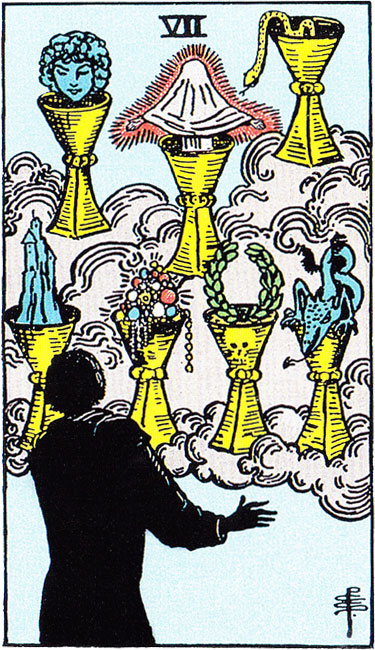 Seven of Cups
Visions, but most likely enthusiasm, illusions, wishful thinking.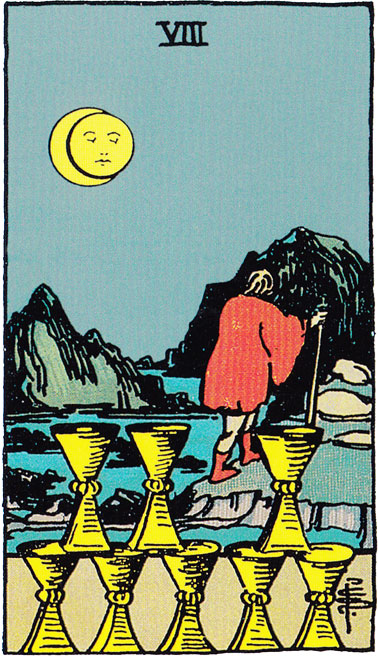 Eight of Cups
Hard-headed goodbye, taking a leap of faith, due to own decision.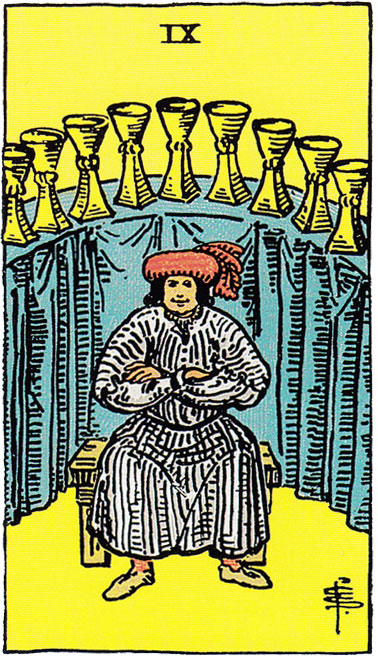 Nine of Cups
Satisfaction, zest of life, folksyness/companionship, carefreeness, being relaxed.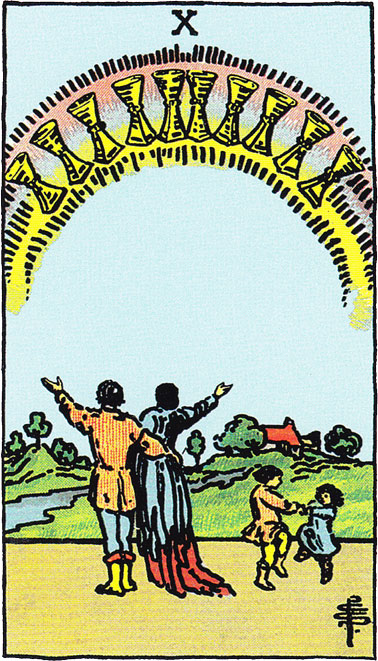 Ten of Cups
Great luck, deep harmony, emotional certainty, happy family life.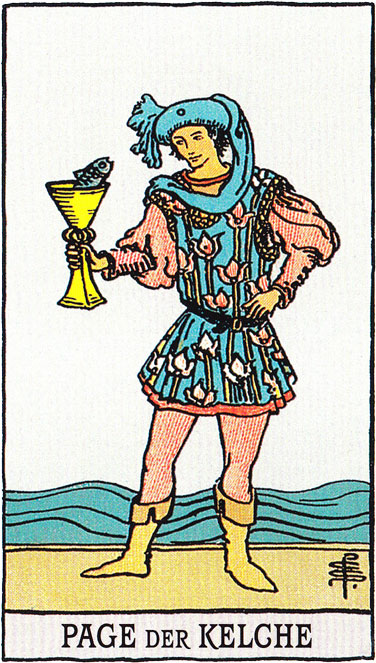 Jack of Cups
A friendly gesture offered to the asking person, an opportunity that flatters him, makes him happy.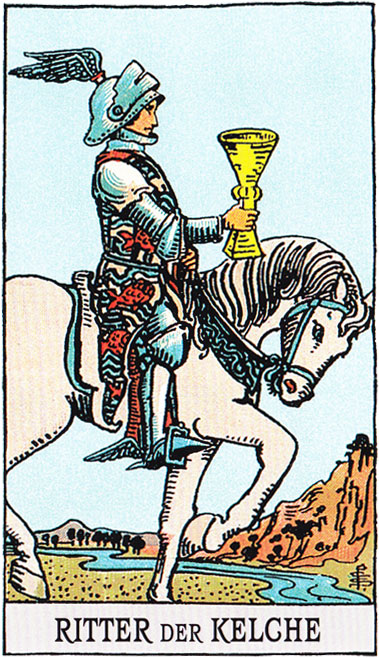 Knight of Cups
Friendly, loving, forgiving atmosphere, harmony, being in love.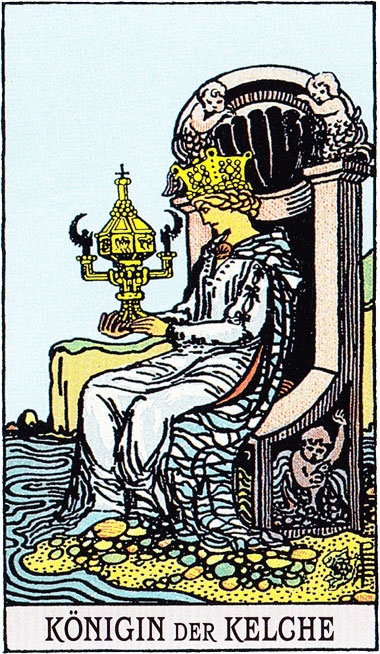 Queen of Cups
A woman in the kind of water: empathetic, gentle, romantic, helpful, emotional.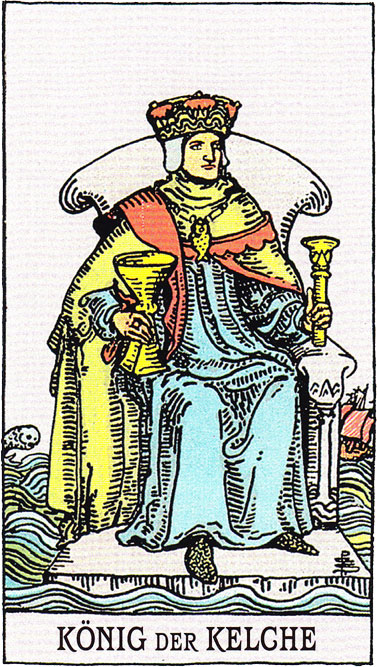 King of Cups
A man in the kind of water: emotional, gentle, romantic, intuitive.
Top
Coins = Earth
Trusting, dignified, resistant, sturdy
Ace of Coins
Like every other ace, the ace of Coins represents an inner chance. More...
Two of Coins
Flexibility, playful indecisiveness, going with the flow, instinctive trust.
Three of Coins
Progress, passing exams, showing off what you can, going into new (mysterious) levels.
Four of Coins
Penuriousness, questionable need for security, holding on, compulsiveness.
Five of Coins
Crisis, deprivation, bottleneck, thirst stretch, rough soil, poverty, taking risks.
Six of Coins
Generosity, blessing and being blessed, tolerance, helpfulness, wealth, philanthropy.
Seven of Coins
Patience, slow, but sustainable growth, time of maturing.
Eight of Coins
Beginning, new learning, assurance, creative joy, good skills.
Nine of Coins
Profit, pleasant surprise, surprising recovery, favorable turn of events.
Ten of Coins
prosperity, security, stability, success, solid fundament.
Jack of Coins
A good opportunity, tangible/solid advice, a valuable impulse for the questioner.
Knight of Coins
A solid, pure atmosphere of diligence and persistence, grown, recoverable basis.
Queen of Coins
A woman in the kind of soil: down to earth, reliable, realistic, diligent, amiable, patent, fertile and sensuous
King of Coins
A man in the kind of soil: business minded, pragmatic, reliable, down to earth, sensuous, self-indulgent.
Top